Stereo amplifier
Image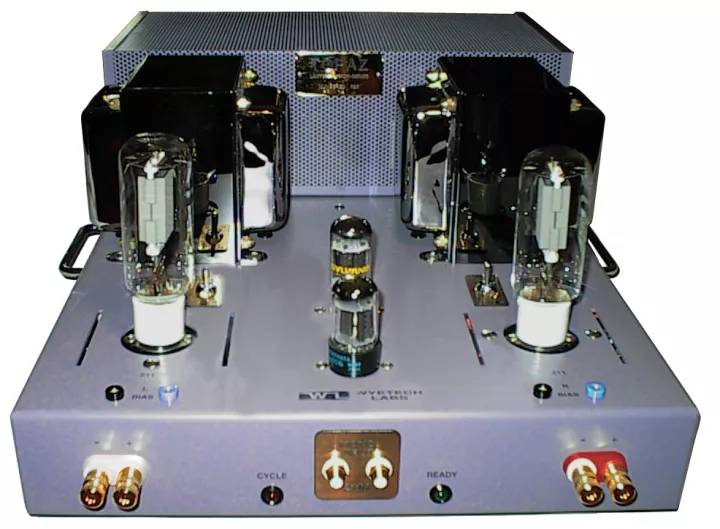 Product Status
Discontinued
The Topaz 572B continued the tradition of the original Topaz, but switched from the original 211 tubes to the Svetlana SV-572-10 large triodes. This switch in output tubes due to two problems that the previous 211 manufacturer from China had. One was fallout of the filaments during shipments. The other was loose tolerance between the carbon plate and the tubular connecting structure causing intermittent ticks that could be heard through the speakers.
Eventually we found a new source for 211 tubes from Valve Art which addressed the issues with the previous 211s, and so production switched back to 211 tubes in the Topaz 211C.
Circuit Description
All stages operate in class "A1" single ended and contain automatic self-biasing circuitry. Our exclusive use of exceptionally large value Solen polypropylene coupling capacitors is one of the reasons for our extended low frequency response. Each Svetlana directly heated triode ( DHT ) drives its own exquisitely refined Audio Note output transformer to get 23 watts RMS per channel in pure CLASS A1 operation. The output transformer windings from each channel can be switched via dual contact high current switches to allow the selection of speakers rated for 4 or 8 Ohms. We employ no feedback of any kind due to the low distortion ultra-linear amplification stages employed in our design.
Power Supplies
Dual output toroidal power transformer for 572-10 filaments provide a filtered DC separate power supply to each output triode eliminating the typical AC balance adjustment while providing superior performance.
Separate power transformers and filters for the two high voltage power supplies provide total isolation between the INPUT and OUTPUT stages. These filters enable complete immunity from the AC power line.
Polypropelene in oil capacitors have doubled the storage capacitance from that used in the 211A model.
A total of six heavy chokes and seven large polypropelene capacitors are used in the power supplies.
Complete elimination of electrolytic capacitors in the High voltage power supplies.
Mechanical Construction
Extremely rugged (12 gauge) all welded steel chassis was implemented to further reduce any possibility of vibration induced signal aberrations.
Highly polished showcase chrome and black nickel plating on brass accentuates the chassis styling.
Very high quality pearl enamel baked on finish to further enhance the artistry.
Rugged solid brass handles with nickel finish are implemented for ease of handling.
A fine mesh screen covers the high voltage transformers and chokes.
Circuit Boards
(Hand crafted Vectorboards using precision double turret terminal posts)
The components are mounted on Vector boards which contain swaged terminal post. These posts are divided into two areas. The wiring used is laid out on both top and bottom of the board and is soldered to the bottom layer of the terminal post. This point to point wiring allows the highest possible component density while maintaining the shortest possible SIGNAL PATH! The components are then soldered into place on the top layer of the terminal which allows the replacement of any part without removing the circuit board. High quality Teflon coated Silver plated OFHC copper wiring is used where appropriate and silver solder is used throughout.
Auto-Sequencing
(60 second power on cycle)
Three time-delay relays provide extended tube life and proper power sequencing for stabilized circuitry.
Power Switch Settings
A 3 position toggle switch provides ON, OFF and STANDBY functions
Impedance Matching
Two high current toggle switches enable setting for 4 or 8 ohm speakers
Specifications
Tube Complement
1 6SN7WGTA octal base dual triode
1 6BX7GT octal base dual triode
2 SV-572-10 Svetlana - large triode rated for 125 watts plate dissipation
Frequency Response
+/- 0 dB > 100 Hz to 10 kHz
-1 dB > 20 Hz to 25 kHz
-3 dB > 16 Hz to 37 kHz
Input Impedance
200 kW
Absolute Phase
non-inverting
Gain
25 dB (0.75V RMS maximum for full output)
Dynamic Headroom
4 dB (short duration music peaks of up to 90 watts for extended dynamic headroom)
Power Output
23 watts RMS per channel
Power Consumption
375 watts
Weight
Net: 102 lbs ( 46 kg )
Shipping: 117 lbs (53 kg)
Dimensions
16" W x 22" L x 10" H
Reviews
The Absolute Sound
issue 129 (April/May 2001) - Reviewed by Scot Markwell
Scot sums up the review by proclaiming the topaz to be the best in its class of Single-Ended Triode amplification, and proclaiming it "King of the Hill".
SoundStage!
July 2003 - Reviewed by Marc Mickelson
If you're a fan of vocal music, you will likely fall hard for the Topaz 572B… (it) portrayed vocal performances with presence that is unmatched by any amplifier I've heard.

…the Topaz 572B is one of very few SET amps that seemingly has power to spare.
The Inner Ear Report
Volume 13, # 2 (2001) - Reviewed by Ernie Fisher
…the Topaz's bass resolution is comparable to the best solid state devices currently on the market.
Warranty
Limited Warranty
Tubes: 1 Year Parts
Components: 3 Years Parts & Labor
Extended Warranty
Components Only - 20 Years Parts & Labor (See Warranty Registration)