Monoblock amplifier
Image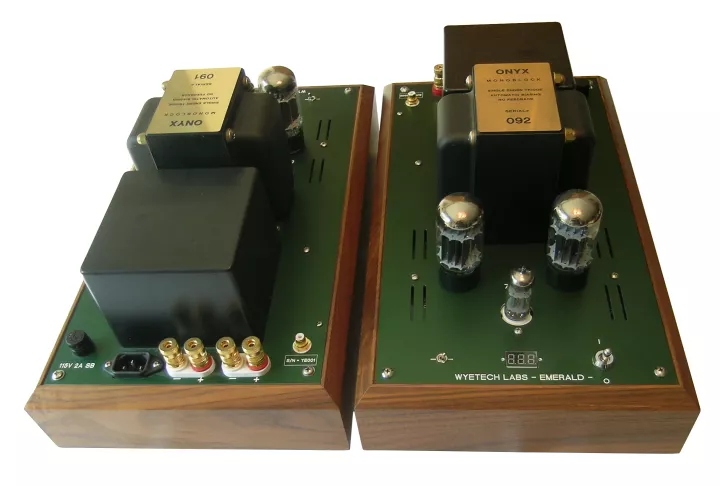 Product Status
Discontinued
The Emerald is a special limited edition variant of the Onyx monoblocks, mounted on a wooden chassis.
Circuit Description
All stages operate in pure class "A1" single ended and contain automatic self-biasing circuitry. We have maintained our Topaz tradition in the use of exceptionally large value Solen polypropylene coupling capacitors. This together with our custom built HAMMOND output transformer has endowed this amplifier with very extended low frequency response. Each of the four output triodes are individually self-biased, with only the plates tied together in a quasi parallel configuration, which is nearly equivalent to having one high powered triode. Our 12 pound output transformer provides 13 Watts RMS per mono-block with solid bass and absolute stability into all low impedance loads.
We employ no feedback of any kind due to the low distortion ultra-linear amplification stages employed in this design.
Power Supplies
Toroidal power transformer voltage input for 115V, 60 Hz operation. Three output windings provide AC balanced filament power and two separate DC power supplies using full-wave rectification to provide total isolation between the input and output stages. These consist of a triple π (pi) filter for the 300 Volt output rail and a double π (pi) filter for the 450 Volt input & driver rail. The use of RC filter networks with very large electrolytic capacitors and wire wound resistors provide an unparalleled ripple reduction that is too low to be seen on our oscilloscope.
Rectified and filtered DC provide the power for the input tube filament of the 1st and 2nd stage. The other two output tube filaments are provided with AC connected in a balanced configuration to eliminate any possibility of hum induced distortions.
This provides a very low noise floor that when the music is not playing, you might get the impression that the amplifiers are turned off.
Mechanical Construction
A Hammond wooden chassis is used with ventilated bottom plate and custom CNC machined top plate. Top plate is letter engraved and ink filled just like our Ruby reference amplifiers.
A deep emerald color top plate accentuates the satin black finish of the output transformer and toroid cover.
A cast aluminum box is used to cover the power Toroid transformer to strengthen an already appealing look.
Circuit Board
The components are mounted on a printed circuit board (PCB) which is made from FR4 glass epoxy with double sided copper traces and plated through holes. Both sides have a protective green solder mask. A silkscreen is printed in white showing the component layout and parts value. This PCB was designed manually in house. It has enlarged power and signal line traces to attain the best analog integrity that automatic routing circuit programs cannot attain. Our Printed Circuit Board program allows for an infinite varieties of traces and component layouts that can be developed into our own custom library parts. We have created a library of custom component layouts that are specifically suited to develop our Analog circuits. Wiring to the PCB is attached via screw down crimp terminals to allow for ease of repair should the need ever occur where the board would need to be removed. Again, like in the Topaz we have reduced the signal path length to less than 6" on the PCB board. The final assembly of parts to the PCB is done by hand soldering of all components, which is superior to automated flow-soldering techniques, by allowing more solder on each and every joint.
Auto Sequencing
A time-delay circuit provides extended tube life and proper power sequencing for stabilized circuitry on power up. The filament voltage is turned on for 35 seconds before applying the DC voltage power.
Power Switch
A toggle switch enables power to the automatic sequencing circuit that delays operation until the green (ready) LED comes on after the initial 35-second delay.
Impedance Matching
Two high current (25 Amp) WBT type terminals enable setting for 4 or 8 ohms speakers
Specifications
Tube Complement
1 x Dual Triode 9-pin base 7062 (Ampex NOS) - input / driver stage (can also substitute 12AU7 or 5814A)
2 x Dual Triode Octal base 6AS7A (JAN Military NOS) - output stage (can also substitute 6080WC)
Frequency Response
+ 0 / - 1 dB — 9 Hz to 22 kHz
+ 0 / - 3 dB — 6 Hz to 38 KHz
Input Impedance
60 KΩ
Gain
29 dB > 0.36 VRMS maximum for full output
Dynamic Headroom
2 dB (music peaks up to 40 Watts)
Absolute Phase
non-inverting
Power Output
13 Watts RMS per Channel
Power Supply Storage
280 joules
Power Consumption
125 Watts each
Weight
Net: 2 x 31 lbs. (28.2 kg)  
Shipping: 2 x 36 lbs. (33 kg)
Dimensions
9.5" W x 16" L x 8.5" H
24.13 cm W x 40.64 cm L x 21.59 cm H
Warranty
Limited Warranty
Tubes: 1 year parts
Components 5 years parts & labor