Loudspeakers
Image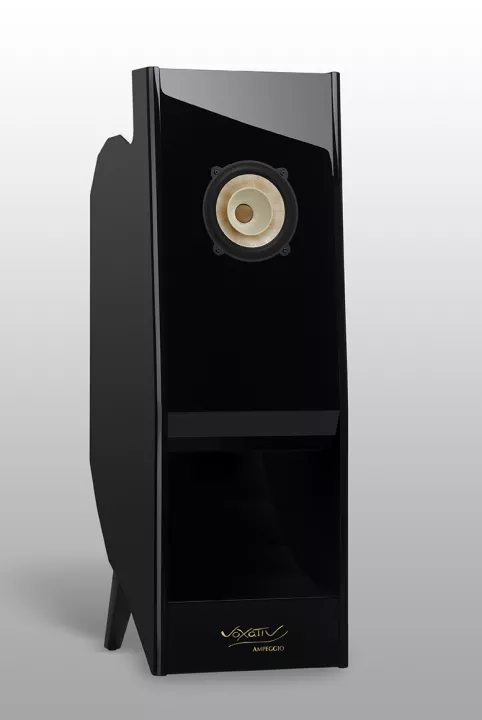 Voxativ have partnered with Schimmel Pianos to build some of the best sounding single driver speakers in the world.
Made in Germany, the beautiful Ampeggio Signature uses a single proprietary 7" dual-cone driver with a large, convex surround, designed to accommodate a much greater excursion than the typical Lowther driver.
The complex cabinet, designed and voiced in collaboration with Schimmel Pianos, incorporates a series of faceted internal boards for optimal radiation resistance, and houses a twice-folded horn nearly 9 feet long.
The Ampeggio Signature is a work of art both in form and function, finished in the best tradition that you would expect of a world class piano company.
The multiple lacquer coats and select tone woods is what one would expect from German perfectionists.
It projects a musically involving engagement reminiscent of the live event.
Like a musical instrument, its superior time domain performance establishes proper harmonic fidelity in ways that communicate themselves in a most natural way.  One feels connected directly to the music in a emotional way akin to spirituality.
The Voxativ Ampeggio Signature is the first widebander loudspeaker that we know of with drivers having wooden cones (AC-4x), which provides a slightly higher sensitivity and excellent frequency response, and ultimately better sound.
Although the wood cone has the same moving mass as the Japanese calligraphy paper, as used in the original Ampeggio, the cone's stiffness is 100 times higher, which results in better sonic properties. The cone stiffness/damping plus the surrounding's linearity/damping all play a crucial role in the accuracy of the speaker driver's signal waveform.
The use of a more powerful magnet system in the Signature version also leads to considerable sound improvement.
The Ampeggio offers the usual Lowther traits of transient speed, spatial presence, dramatic ease, and physical impact, but adds deep, well-controlled bass and excellent soundstaging.
The Voxativ Ampeggio loudspeakers, together with our Ruby SET 300B mono-blocks and Ruby STD preamp, is the best sounding system that I have ever heard using high quality recordings whether be it LP or CD. Holographic 3D sound presenting a live venue that must be heard to be believed.

Roger Hebert, Wyetech Labs
"A high-efficiency, single-driver loudspeaker for which no excuses need be made," 

Art Dudley, Stereophile
Contact Us for pricing.